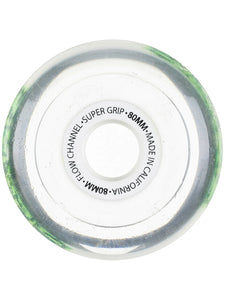 The Labeda Slime Wheel comes in a wide range of colors so you can boast a truly unique wheel set up out on the rink. These wheels are designed especially for smooth surfaces like indoor sport court, wood, and smooth concrete. Slime Wheels offer incredible grip, speed, and performance, giving you a step up on your opponent.
Ideal Playing Surface:  Sport Court, Wood, Smooth Concrete
Hardness Guidelines: 

76A (Soft) = 185 lbs and below
Hardness selection should be based on player weight and skating ability.  A player can choose a wheel designated for a heavier skater if they have advanced skating skills to compress the wheel enough to grip.  This will allow the player to maximize their speed. 
Fit Guidelines:  Standard hub wheel designed for the standard 608 bearing size
Colors: colors will vary